Welcome to the Unique Home Care Services Wish List!
We are non-medical staffing agency that assists many families in Central PA with their loved ones home care needs. Our pediatric clients are one of many that we service. We want to help the many families that work so hard to make sure that their children have what they need when going back to school, but there are still many families that are not always able. UCHS is giving back to the community and we need your help. UHCS is asking for businesses and anyone that wants to help with school supplies. These items will be distributed in August 2011, for our "Students Come First" back to school event. Every student needs a book bag and school supplies, and we can make this happen. Unique Home Care Services wants to say thank you in advance, for all your support.

Thank You for your support! Supplies can be ordered for our baskets or summer party.

Please donate as much as you can of the following items of need.


Thank you for your donation, we appreciate your support! Shipping on all orders under $100 is $6.95, orders over $100 will be 9.95 and all orders over $399 will receive free shipping!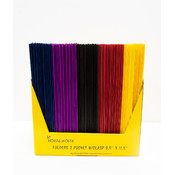 Two Pocket Folders with 3 Fasteners - 9" x 11.5"
SKU: 532679
Casepack: 100 pcs
Case Price: $43.00
Requesting 100 pieces (1 cases).