Welcome to the Upper Room Church Wish List.
Please support our Back to School Drive.

We need your help! Please donate as many of the following items as possible.

Thank you for your donation, we appreciate your support! Shipping on all orders under $100 is $6.95, orders over $100 will be 9.95 and all orders over $399 will receive free shipping!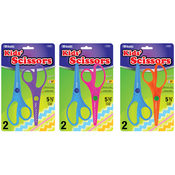 BAZIC 5 1/2" Fluorescent Safety Scissors (2/Pack)
SKU: 428630
Casepack: 24 pcs
Case Price: $22.80
Requesting 24 pieces (1 cases).