Welcome to the Tumbleweed for Youth Development Wish List.
"Fans of ShoppeLifter Care" for the Homeless Youth Community in Arizona.

Tumbleweed for Youth Development is a non-profit organization that provides support, food, clean clothing, shower facilities, job search assistance, mental health care, and many, many resources for our homeless teenagers in Arizona. The drop in center is where Homeless Youth can drop in during the day to get services. They do not provide overnight accommodations. The Center is always in need of travel size hygiene products, socks, sleeping bags, back packs, blankets, which is some of the items we would like to purchase through your company.



Thank you for your donation, we appreciate your support! Shipping on all orders under $100 is $6.95, orders over $100 will be 9.95 and all orders over $399 will receive free shipping!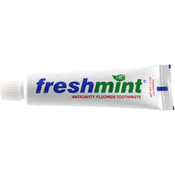 Freshmint Flouride Toothpaste 1.5 oz
SKU: 56815
Casepack: 144 pcs
Case Price: $36.36
Request has no limit.